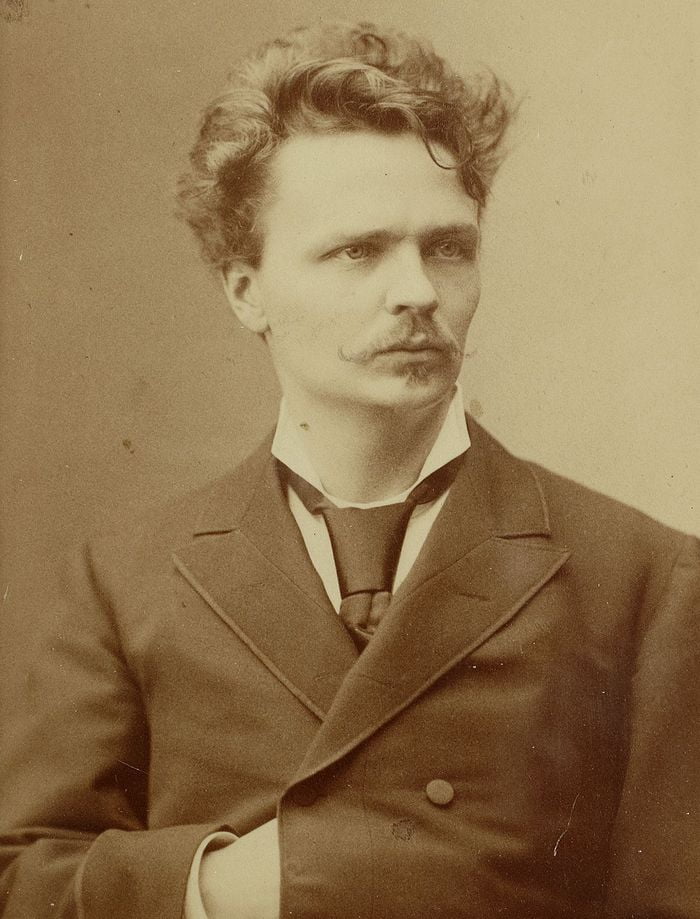 At last the rooms were furnished. The sleeping chamber was like a small sanctuary, the beds standing side by side like chariots taking their course along life`s journey. The blue quilts, the snowy sheets, and the pillow-spreads embroidered with the young people`s initials amorously intertwined, all had a bright and cheerful appearance. There was a tall, elegant screen for the use of Louise, whose piano—costing twelve hundred kroner—stood in the other chamber, which served as sitting- room, dining-room, and study, in one. Here, too, stood a large walnut writing-desk and dining-table, with chairs to match; a large giltframed mirror, a sofa, and a bookcase added to the general air of comfort and coziness.
The marriage ceremony took place on a Saturday night, and late on Sunday morning the happy young couple were still asleep. Gustaf rose first. Although the bright light of day was peering in through the shutters, he did not open them, but lit the red-shaded lamp, which threw a mysterious rosy glow over the porcelain Venus. The pretty young wife lay there languid and content; she had slept well, and had not been awakened—as it was Sunday—by the rumbling of early market wagons. Now the church bells were ringing joyfully, as if to celebrate the creation of man and woman.
Full instructions
Louise turned over, while Gustaf retired behind the screen to put on a few things. He went out into the kitchen to order lunch. How dazzlingly the new copper and tin utensils gleamed and glistened! And all was his own—his and hers. He told the cook to go to the neighboring restaurant, and request that the lunch be sent in. The proprietor knew about it; he had received full instructions the day before. All he needed now was a reminder that the moment had come.
The bridegroom thereupon returns to the bedchamber and taps softly: "May I come in?"
A little scream is heard. Then: "No, dearest; just wait a minute!`
Gustaf lays the table himself. By the time the lunch arrives from the restaurant, the new plates and cutlery and glasses are set out on the fresh, white linen cloth. The bridal bouquet lies beside Louise`s place. As she enters the room in her embroidered morning wrapper, she is greeted by the sunbeams. She still feels a little tired, so he makes her take an armchair, and wheels it to the table. A drop or two of liqueur enlivens her; a mouthful of caviar stimulates her appetite. Fancy what mamma would say if she saw her daughter drinking spirits! But that`s the advantage of being married you know; then you can do whatever you please.
Read More about Turkish War part 11