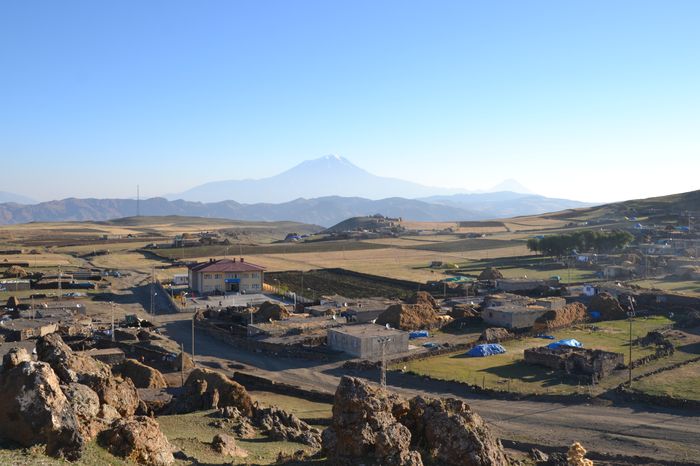 Islamkoy is a former Armenian village, which was then called as Kafirkoy. It is possible to see the traces of Turkish Armenians everywhere in Igdir and environs.
The walls of the houses are as high as 1- 1.5 meters. The walls have been made of dried clay bricks and dried excrement of the animals. We see wool, left for drying on the surrounding rocks. On the lands in the left of the road, we see ponds, formed by the base water of Agri Mountain. At the same time, we learn that this place was a passage point for numerous species of birds, due to these lands.
Igdir and environs is a paradise for birds
Many of the birds, seen in Igdir travel from Caucasia to Russia and uses these lands. In particular, Ciyrikli village of Tuzluca County, is a secrets birds paradise, according to what is said. But we can not go there due to foul walker. I however, we can see, ruddy shelduck, crane and seagulls on our way. Seagulls? Seagulls of Lake Van… We therefore learn that the seagulls are not only found in the sea. All waters of Agri Mountain unite with Karasu and flow to Aras river, which constitutes our border with Armenia. These waters are very suitable for accommodation and nourishment of the migrating birds. Although we haven't seen, it is possible to see weasels in these waters. Locally, these animals are called water dogs or water monkeys.
On our way, we receive at the County of Karakoyunlu and we vvish to visit old graves here. At the same time, Karakoyunlu County is the place where our driver Bayram Arslan was born and grown up. We are met by Haşan Aksoy, the deputy Mayor, to show us around. Just like almost all old graves in Igdir Plain, the graves with ram heads in the graveyards of the village, which has been made an open air museum, date back to Karakoyunlular era. These tombstones are placed in the tombs of the bold and gallant persons and the young people, who did at a young age, and the figures on it symbolizes the occupation of the person or how he was known.
Tuzluca County
After the brief travel in Karakoyunlu village, we are approaching lo Tuzluca. The earth gets redder and poppies and mustard flowers are together found everywhere.
In Tuzluca, we meet Hasan Dogan, the director of Public Education Center. He has been born and grown up in Tuzluca. Just like the half of Igdir, he is of Azeri origin. We learn that the former name of Tuzluca was Kulp. During our conversation he States that a team from Foundation for Preservation of Historical and Touristic Natural Values and perforated studies here for a raonth. As a result of this study, historical remains, dating back to ancient ages and in particular, the remains of a rock, which is considered to be the oldest of the region.
Although the research studies are still underway, another settlement area. proving that 15,000 to 20,000 -. people had lived in the region, has been discovered. Water has been transported to here from a distance of 15-20 kilometers with pipes. Also the traces of grinding stones and primitive milis are found in this region. Hasan Dogan States that these places require scientific works. He States these places, a part of which are used as plantations and some other parts destroyed for building houses, must be opened for tourism. Tuzluca possesses an important location not only with its ancient settlement areas, but also its nature as a natural park. Also as stated by Mr. Hasan, a scientist from Stanford University, working in Tuzluca, has observed 6 or 7 bird types. which are not present in Turkey While the researches on these species are underway, another team, from Gdansk University in Poland continues their studies in cooperation with Kafkas University.
Until today, 160-170 bird species have been reached in the region and that much have been observed, yet could not be caught. We learn that the tourists, who will visit Tuzluca will not need a permission to visit these areas. However, Tuzluca Public Education Center makes efforts to establish observation posts and accommodation facilities here in cooperation with Governor's Office of Igdir. As our conversation develops, Hasan Dogan takes us first to a carpet workshop and then to Tuzdagi.
Read More about From Alican and Dilucu border gates to Karakale