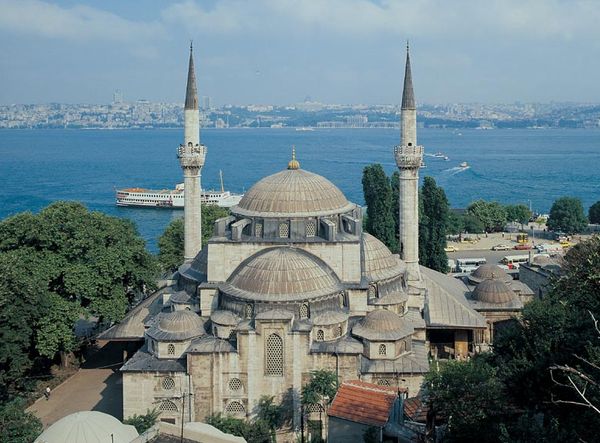 Mimar Sinan built this extremely beautiful mosque on the highest point of the city for Mihrimah Sultan, the daughter of Suleyman the Magnificent in 1560. The mosque is one of the dazzling late-period masterpieces of the master. The significant form of the construction is lively and original: A cube, a 37m high dome on it, and a thin and long minaret next to it. The light passing through the curves of the walls with three rows of windows enlighten the area and increases feeling of relief. Edimekapi
Ortakoy Mosque
The mosque, built for Sultan Abdulmecit in the 19th, century right at the seashore, is one of the stunning examples of the late period Ottoman architecture with its elegance.
Rustem Pasa Mosque
A few steps away from the Egyptian Bazaar (Misir Qar§ist) a genuine example of the Ottoman Istanbul is hidden: The mosque of Rustem Pasa, Grand Vezir and son-in-law of Suleyman the Magnificent. Mimar Sinan built this mosque in Z561 after completing The Suleymaniye as the sultan demanded.
One should absolutely spare some time to see this mosque not much visited by the tourists, but perhaps the most attractive mosque in the city, and enjoy the old carpets and the elegant patterns on the tiles from the greatest period of Ottoman ceramics art. After the chaos and noise of the neighborhood where the marketplaces have gathered, the time feels as if it stopped.
Sehzade Mehmed Mosque
The mosque, built between 1544-1548 is the first great work of the master; Sehzade Mosque stands at the crossroads of Haghia Sophia and the first steps of the great master on the way to become the brilliant head architect of Ottoman Empire. Sinan had examined the dome and the area understanding of Haghia Sophia thoroughly. He took the meaning of the domed area one step further by adding four semi domes to the main one i nstead of two and adding a series of semi domes to each of I hose. Thus the whole structure became a great area that is full square and sharpening upwards. It has a large, plain and light look inside; while has a dynamic look outside due to its < lecorative form, the significant division of the outer wall and the rhythmic structure of the domes. The tiled decoration in Mehmet`s tomb in the garden is very beautiful.
Sokullu Mehmet Pasa Mosque
None of the mosques in Istanbul are as well-settled and proportional as Sokullu Mehmet Pa§a Mosque. As Mimar Sinan had formerly built a smaller mosque for Sokullu Mehmet Pa§a, one of the most important vezirs of the empire between 1571-T572, he reached the perfect solution for building hexagon domes. He managed to place the main dome on the rectangular with four small semi domes that the pedestal of the dome joined with the rectangle of the community area so that the area is open and spacious.
Read More about Istanbul Mosques